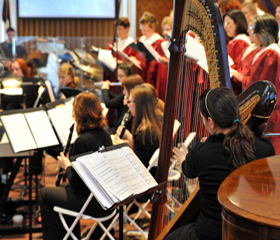 MUSIC MINISTRY
At St Thomas we are blessed to have a very gifted Music Director. Dr. Alex Zakirov is our Music Director

We usually have at least two major music programs each year at Easter and Christmas. Both the cantatas are a sight to see and a true blessing to the ear.

The choir sings almost every Sunday. Our Choir is always looking for new members if you would like to join please contact the office

We currently have a blended service at 10 AM on Sunday with both traditional hymns and contemporary music.