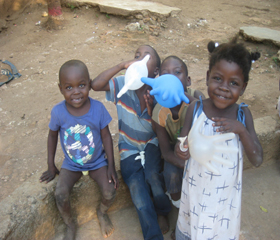 St. Thomas Mission




St. Thomas Presbyterian Church supports the following:





Local Mission





Samaritan House

A community service organization devoted to serving families within our community by providing food, help with rent or utilities, a health clinic and other personal needs, while at the same time maintaining their dignity. www.samaritanhousemichigan.org/



Good Shepherd Coalition

A group of churches and community organizations that seeks to pool resources to better assist low income residents of central Macomb County with their food, shelter, clothing and medical needs. The goal of the coalition is to guide recipients to greater self-sufficiency rather than dependency. www.GSCMACOMB.ORG



MCREST

A collaboration of churches that house the homeless at area churches throughout the year. Each church provides the guests with a safe environment to sleep, 3 meals a day, a place to shower, clothes if needed, transportation to and from their jobs, laundering of clothing and linens, and evening activities. St. Thomas generally hosts 50 to 60 people during our host week. www.mcrest.org/



Park United Partnership St. Thomas is partnered in ministry with Park United Presbyterian Church in Highland Park, MI. We are blessed to be able to join them in ministry and outreach in their city.

Blood Drives Held four times a year in partner- ship with the American Red Cross. St. Thomas is a 2005 recipient of the Platinum Sponsor Award for its outstanding commitment to the Blood Program. www.redcross.org/mi/detroit

Friends of Foster Care: We support several families at Christmas time with gifts for foster care children. https://friendsoffosterkids.org/

Pillowcase Ministry: Can you sew, iron or fold pillowcases? Would you like to learn? Then join us in making pillow cases to give out to different organizations and agencies in our area. Contact the office for more information.

Six Day Project/Life Remodeled : Six days during the early part of October a team from St. Thomas works with Life Remodeled and thousands of other volunteers to eliminate blight in Detroit.

"True North to Freedom" formally "The Alabaster Gift" is an organization that works with human trafficking victims to provide direct support and work with the community with education about human trafficking. There are very few organizations in Macomb county that provide direct support primarily to human trafficking victims and this is the main one. They are always looking for volunteers to work with the women they serve. The link for more details in Here

Distant Mission


Friends of Colina de Luz Christian Home for Children in Tijuana, Mexico, with the name meaning "Hill of Light." An average of 70 -80 boys and girls from infants up to 22 year old students live at the home. It was founded in 1987 to provide homes for children who have been abused, abandoned or orphaned. www.colinadeluz.org/

Matthew 28 Orphanage and Feeding Centers It is the mission of Matthew 28 to bring the gospel of Jesus Christ to the Central Plateau of Haiti in a very practical way by feeding hungry children and caring for orphans. www.matthew28.org/

Ed and Sheryl Gudeman are International Ministry Directors for Europe and the Middle East. Working with Church Leaders in leadership development, teaching and member care and are a partner in ministry..

Mission Trips Every year St. Thomas commissions Short Term Mission Teams to serve for 7-10 days in and outside of our community. This service includes construction, cleaning, Vacation Bible School and various other activities, and getting to know the people and developing relationships while sharing the love of Christ.